2011 : Lexus LS Landaulet for Monaco Royal Wedding
In July 2011, we officially launched the exclusive Lexus LS 600H Landaulet. This unique high-level vehicle was specially made for the Monaco Royal Wedding on July 9th. 
The automobile is completed with carbon fiber body and transparent roof. With our dedicated engineering and craftsmanship and the partnership of Lexus, we all managed to deliver a singular automobile worthy of so auspicious an event.
"The conversion undertaken on this Royal Lexus LS 600h Landaulet represented a significant technical challenge. The development was the first for a vehicle of this standard and powertrain, a hybrid. The conversion process began with extensive computer-aided design calculations, simulations and 3-D modelling. The reinforcement of the bodyshell required extensive application of the very latest in honeycomb structures, Kevlar and carbon fiber technology in order to maintain chassis stiffness and torsional rigidity following the removal of the roof and pillars." (Cision, PR Web)
Some composites require very high temperatures for curing. We 'cooked' these components onto the bare chassis in a specially prepared oven. Much of the car had to be disassembled, including the stripping out of some mechanical parts, electronic components, interior features and upholstery. 
The transparent roof was a huge challenge : concerning the design, as a large single piece with no reinforcement and no support pillars, and its manufacturing.
The demountable roof was constructed in France by one of the world's leading company.
"It is composed of a lightweight polycarbonate shell, just 8 mm thick and weighing only 26 kg. Fixed to the body of the Lexus through two intermediary parts, it will allow perfect visibility from both inside and outside the vehicle. It took over 2000 hours to complete. The fundamental objective of the project was to ensure that the finished car maintain the levels of quality and technological sophistication inherent in every Lexus, while preserving all the performance, safety and dynamic attributes of the original LS 600h L." (Cision, PR Web)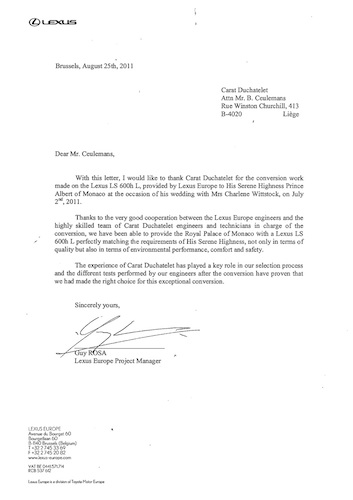 Following the partnership and this unique royal creation, we received an official letter from Lexus, congratulating us on the quality of our work.
Our entire team is very proud to have obtained this recognition after many hours of meticulous work.

Carat Duchatelet, Always Unique.